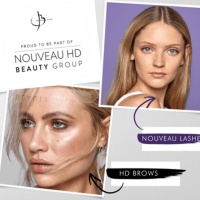 HD Brows/Nouveau Lashes Coaching Course
Introducing the new "Coaching Courses" from Nouveau HD Beauty Group
Enquire now
Nouveau HD Beauty Group have listened to your feedback and can now introduce a bespoke coaching course customized to you.
This is aimed at our HD Brow & Nouveau Lash Stylists
LVL Coaching Course
Extension Coaching Course
Brow Coaching Course
What is it?
A 2 hour unstructured workshops, where you will bring your own model to work on. You will complete a self assessment form and we will focus on the areas you want to focus on.
You will complete a full treatment on the day, with coaching from our elite trainers.
Why train?
New retail and professional products to discover
Refresh your existing skills
Are you less confident in your services due to the pandemic?

ONLY £100 + VAT
No hidden fees.
CO DOWN
Currently available in our Co Down Acadamy

HD & NL Stylists
This is aimed for our HD Brow & Nouveau Lash Stylists
Enquire now
HD Brows Training Reviews
"I started HD Brows in my 40s and it has opened a whole new career for me. I love my job and it works around my life and children. The best investment I have ever made in my future."
HD Brows Training Reviews
"Since training in HD Brows, I've built a dedicated client base of over 400 clients."
HD Brows Training Reviews
"The training at HD Brows is by far the best quality training I have had in my 14 years beauty experience."
Enquire about HD Brows Training
Fill out the below form and a member of our team will be in touch with more information.